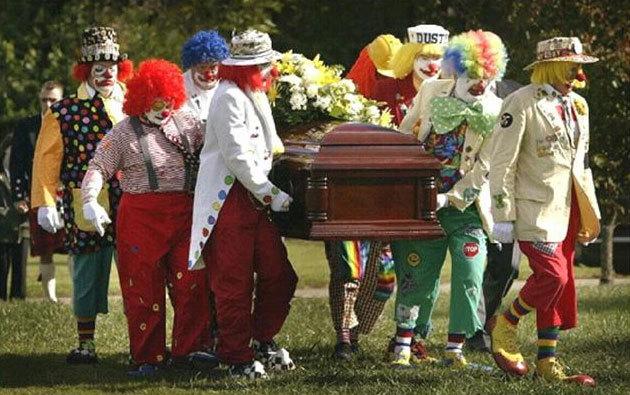 What song would you like to have played at your funeral? It's got to be something uplifting, right? Something that's going to keep the tears from falling from your mourners' eyes by reminding them of the good times. And if tears do come then at least, thanks to you, they'll be happiness flavoured tears. OK, the mourners won't be doing Dick Van Dyke-style up-in-the-air heel clicks or cartwheeling over pews (unless you're Thatcher); after all, there's only so much happiness that can be wrung from a cold room where people have gathered to wear black and contemplate the bleak inevitability of death. But with a few simple pre-expiration choices you can help them come to terms with your passing, and that's an incredibly noble thing to do. We, the dead, owe it to the living to keep their spirits up in their time of grief, right?
Wrong.
Fuck that. If you're coming to my funeral, you're a convulsing, snottering wreck, or you can get your dry face the fuck out of my swansong. I'm literally going to have doormen punting people out for not being upset enough. "Sorry, missus, today's funeral is a two-wail minimum, and you've barely scrounged up a sob. You can leave quietly, or big Davie over there will really give you something to cry about." I want 'Everybody Hurts' by REM played on a constant loop, and I want people to complain because it's not sad enough, and then to suit the mood somebody has to put on a tape of dogs being murdered instead. I want people banging on the coffin lid pleading to be buried or burned along with me, because a world without me is simply too nightmarish to contemplate. I want a queue of people lining up to grief-fuck my dead body. I want people openly killing themselves in the aisles. I want my funeral to look like a peasant revolt and sound like a field full of raped cats in a hurricane.
I'm really looking forward to my funeral, actually. I've got a few ideas of things I'd like to put in place for it, if I can get a few volunteers to help.
About half-way through the service, an actor pretending to be a detective bursts in and says, "Jamie was murdered. And someone in this room is the murderer. And we're not leaving until we find out who."
Pass around song-sheets and make everyone sing organ-accompanied versions of 'Killing in the Name' and 'Straight Outta Compton'.
I want a big, fancy funeral, worthy of a president or a pope, so I'm going to secure an obscene amount of funding by allowing Coca Cola to sponsor it. This means that all of the speakers will have to endorse the product, but that's a small price to pay for a platinum gravestone. "I think… the only thing that's going to… (sniff) get me through this difficult time is the… (sob) sweet, sweet, full-sugar taste of delicious Coca Cola." My coffin's going to be shaped like a vending machine. No, scrap that, my gravestone will be a vending machine, so people can enjoy a nice Fanta when they come to cry over my rotting corpse. Plus, everyone's going to have to wear red and white at the funeral or they'll be in breach of contract and Coca Cola will sue them. As a consequence of this legally-binding colour scheme, my funeral's going to look like a Santa-themed funeral.
My face is beamed on to a large screen at the front of the congregation. I put on by most mental, mad-eyed glare and yell down at them: "I'M GOING TO HELL. AND YOU'RE ALL FUCKING COMING WITH ME!" At this point, my paid henchmen will lock all the exits, and a smoke machine will start pumping smoke into the room. You'll just be able to hear my maniacal laughter over the screams.
If I'm being cremated, just as the coffin slides out of sight along the conveyor belt and the curtain drops, a stunt-man will run out screaming and covered in flames.
Either that or I'll have speakers in my coffin blasting out the panicked yelps of a trapped cat.
I'm going to hire a stand-up comedian for the wake, but they won't know it's a wake. They'll be told it's a seminar for morticians, and thus will be encouraged to use their sickest material, especially jokes about dead bodies and funerals. I won't be the only one dead that day.
Please help me accomplish all this. It's what I will have wanted.