It would appear that the art of proselytising has gone corporate.
I was shopping in Stirling with my family yesterday. By which I mean they were shopping, and I was wandering the streets like a refugee displaced by war, desperately wishing I could return home. As I walked past Debenhams for the 857th time, I realised how thoroughly, head-thrashingly bored I was of the Thistle Shopping Centre and its Hannah Barbera-esque monotony. In a bid to shake things up, and stave off the desire to hurl myself under a bus, I decided to weave a different route through the white-walled labyrinth. I was also hungry. Ultimately, I didn't care where the detour took me, as long as it took me to Greggs the bakers. Keeping to a semi-religious theme, you could say that I was on the road to Ham-ascus. Well, you could say that. But you probably shouldn't. And I wish I hadn't. Even the Christmas Cracker people would've rejected that piece of shit. I'm very Syria did that joke.
Anyway, let's get on with this. I don't want to be responsible for you being seized by the desire to rush outside and offer your skull to the nearest steamroller. My new route took me past a place I never expected to see in a mall in Stirling. To be honest, our Calvinist history not withstanding, I was shocked to see it in Scotland. It was the 'Bible Learning Centre', a neat, glossy, corporate, well-lit and slick shop filled with book shelves, biblical figurines, and blackboards. It looks for all the world like a cross between a classroom and a showroom, which I suppose it is.
"Hello there, I'd like to test-read a Bible."
"I can tell by just looking at you that you're a classic model man. We've just got an exclusive range of Bibles through the door, all kitted out in the original Hebrew. Bit pricey, but your neighbours will covet the hell out of them."
"I was thinking maybe something a little more modern and conventional. Something reliable, affordable, with room for the kids."
"Hmmm, I can do you a second-hand King James. Mint condition, apart from some kid's drawn a spurting cock over the story of Lot's wife."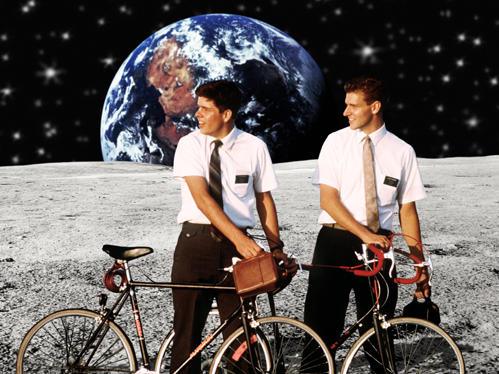 The centre is a base for God-botherers, which means that preachers now have a permanent, six-day-a-week presence on Stirling's streets. Except the people from the centre, who were loitering with intent outside the mall, neither bothered nor preached. Instead, they stood quietly in a row, holding posters and pamphlets perfectly still in their hands like mime artists, approaching and cajoling precisely no-one. I half expected them to be wearing little badges that said: ASK ME ABOUT MY JESUS.
What a wasted opportunity. I say if you're going to go God, go full God, or not at all. Yes, Jesus was part of a touchy-feely, New-Labour-esque shift away from the lightning-and-locusts focus of the rather brutal Old Testament, but even in his softer, less-murdery, sandal-wearing incarnation, God/Jesus was still hard as fuck. He came down to earth and took more lashes than Anastasia Steele and an Iranian blogger combined, and didn't even flinch when the Romans nailed him to a piece of wood. The guy's a dangerous, kinky mental case, who could wink out the world with a twitch of his nose; he doesn't want a line of meek, sharp-suited morons representing him, some ball-and-bowtie-less Muslim Brotherhood. He wants nutcases. Hectoring, full-blown nutcases.
He wants people like the guy I used to see standing outside one of the shopping centres off Union Street in Aberdeen, who would turn up every day with an amplifier and a microphone and let everyone know – through the medium of angry shouting – that they were all evil bastards who were going to hell. No exceptions. Even the babies were bad'uns.
I miss that guy.
Perhaps if the Stirling missionaries injected a bit more vim and pep and honest-to-goodness fire and brimstone into proceedings, more people would visit the Bible Learning Centre. I know I would. "WELCOME YOU HORRIBLE FORNICATORS, SECRET MASTURBATORS AND SINNERS! COME SEE OUR DIORAMA OF HELL, WHERE ELTON JOHN IS FUCKING A DINOSAUR AND RICHARD DAWKINS IS BEING WHIPPED BY STALIN."
Yesterday, the centre was deserted but for one lonely volunteer sitting up the back of the shop padding away at his mobile phone. No doubt he was taking to Twitter to enthuse about how great Jesus is. Tweets like:
@drippyhippy If you think about it, isn't the Bible just a great big Tweet from God?140 characters, and Jesus is the star! #teamGod

@JesusTheFirstRockstar WOO! Jesus, your guitar solo of love flew through the amp and blew the devil from my stage! The crowd surfed him to Hell. YOU RULE JESUS!

@PiousPaul My cat licked its own chuff, so I burned her in the name of Jesus. #saynotopussy #mercifulJesus
If Jesus came back today, WWHD? I'll tell you what he'd do. He'd lose the heid, Bible-style.  "ANN SUMMERS IS HEAVING WITH CUSTOMERS AND MY SHOP'S EMPTY?!" he'd bellow. "DILDOS?!! THE ONLY THING HOUSEWIVES SHOULD BE PUTTING INSIDE THEM IS MY LOVE!" Then he'd go on a major 'taps aff' rampage, smashing the shit out of every shop in sight, making his funny turn in the temple look like a sulky pre-schooler's huff. Then it would be back to basics: floods, earthquakes, pillars of salt, the lot. "I'm never taking 2000 years off again," he'd say, loading up another lightning bolt.
But thankfully you don't need to worry about that, because Jesus is about as real as the doodle I just did on my notepad of a half-frog, half-beaver with George Galloway's face.
Anyway, we've all learned something today. We've learned that the people of Stirling are more interested in nipple clamps and edible knickers than the Bible. And I've learned something, too: I actually quite like you, Stirling.
Thanks, Bible Learning Centre.
PS: Good people of the BLC: I'd rather my son spent a whole day wandering around a museum exhibition entitled 'Pictures of Murdered Prostitutes Throughout the Ages' than spend thirty seconds in your dead-eyed play-pen of lies. Happy Easter!