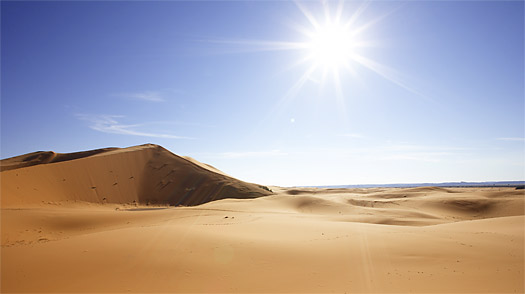 From the sky a fist of invisible, infinite fingers presses searing-hot knuckles down upon the sand. Little Mtopo's cheek thuds onto the dry desert floor, all fight extinguished from his limp and emaciated body. His lips are locked together with the cement of thirst. The rest of him thuds down, too, but he can't feel it. He can't  feel the hunger that knifes at his belly; can't hear the carnival of flies that cavorts above his head. None of it registers. All sensation, all pain, is reduced to a one single uniform scream that rings from every pore and cell in his body: a shrill song of death.
You are dying, Mtopo… dying.
Up he goes, up, up, up, hovering high above his body with its spilled fingers and jellied limbs, looking down and around and over and through, and beyond, surveying the prison of his former life through the panopticon of his soul. His short, miserable life is over. Ten years… ten fast and brutal years. A sorrow engulfs him, but he is flying, soaring, seeing more widely and clearly than he has ever seen before – perhaps than any man has ever seen – and so the feeling finds no purchase. He is dead. At last, he is dead, and all life's hungers – both literal and metaphorical – are behind him.
For endless miles in every direction the sand shines a dazzling shade of white as blinding daggers of light are hurled between the giant dunes. A faint wind, rinsed by a billion soft grains of grit, is the only thing to disturb the near-sepulchral silence of the desert. Until… shuffling, far below. Something shifts into view below him. Someone. A robed man, padding across the sand towards him – but not towards him, exactly: there is no 'him', no 'me' any more, just whatever remains of him down on the desert floor – picking up pace as he closes the distance. Mtopo's soul, from its vantage point, regards the man as a bird would an ant. He watches as the man stops and leans over his body, watches as the man starts to plead, to wail, to throw his arms in the air, to shout. The words drag Mtopo's soul back into the fading husk of his body with the speed of a lightning strike. He does not want to die! Suddenly, he struggles, he fights, he yearns to connect with the living world, to hear its substance, to be rescued from his flight into eternity.
"Oh, Mtopo, MTOPO! I CAN NOT BELIEVE THIS HAS HAPPENED! OH, MY, OH GOODNESS, OH WHY HAS THIS HAPPENED, MY SWEET MTOPO?" The man cups either side of Mtopo's face with a pair of big, leathery hands, and scoops his head off the sand like a chalice, staring deep into his vacant eyes. "Price is dead at 57, Mtopo. Can you fucking believe it?"
With every ounce of effort he has left, Mtopo cracks his lips apart, his last words crawling from his mouth to the dust below:
"First… Ronnie… Corbett… and now… this…"
"…Fuck you 2016."
2016 is the number of dead celebrities so far in 2016
Now, I'm not suggesting for a second that we shouldn't mourn the deaths of Prince, Ronnie Corbett, Victoria Wood, Alan Rickman et al. Of course we should. They were terrifically talented, influential and inspirational people. More importantly, they were human beings. What I'm suggesting is that we should cut this '2016 is a serial killer' shit the fuck out.
"Why are you doing this, 2016?" "Come on, 2016, put a stop to it now, this is beyond a joke!" "Who will you take next, 2016, you calendar-based psychopath?!"
Stop it. Stop. It. 2016 isn't killing anyone. 2016 isn't speeding past the houses of middle-aged celebrities spraying them with bullets. When Bruce Forsyth dies we're unlikely to hear about it on Crimewatch. "Police are appealing for witnesses to come forward who may have seen this man in the vicinity of the elderly entertainer's home last night."
It's probably true to say that the number of 'celebrities' has been increasing exponentially year-on-year, to the point where we now have more celebrities than we have ever had at any other point in human history (and a fair few that stretch the definition of celebrity to its limit); and, of course, more celebrities equals more celebrity deaths. Celebrities are dying at the same rate they always did; it's just that in this internet and social media age we're hearing about their deaths instantly and incessantly. Remember how your grandparents used to have conversations like this:
"I've not seen many movies from (*celebrity) recently."

"Deid."

"Deid? Nah. Your arse, they're deid. Really? No. They can't be. Are you sure?"

"Deid ten years."

"TEN years? You're lying."

"Deid. Why would I lie?"

"Who told you?"

"Read it somewhere, or it was on This Morning or one of those other bloody things you watch. Telling you, though. Deid. Long deid."

"We'll see about this." (frantically dials the operator) "Hello, operator, could you connect me to Hollywood please?"
Not now. These kinds of conversations have gone the way of the Dodo and the 8-track. They can't exist in an environment where on-line headlines like this assault us on an almost hourly basis: "MAN WHO ONCE NODDED AT ROGER MOORE IN 1976 AS HE PASSED HIM IN THE CAT-FOOD AISLE IN SAINSBURY'S, AND THEN ROGER MOORE SAID 'ALRIGHT' TO HIM AND THEN THEY HAD A BRIEF CONVERSATION TRAGICALLY TAKEN FROM US AGED 104." People. Die. All. The. Fucking. Time. Celebrities are not being disproportionately targeted by the Grim Reaper.
The internet has amplified our fear of death, and allowed us to join cyber-hands to belt out a much louder, more mournful chorus. The gist of our lyrics is this: if these fascinating, extraordinary, charming, beloved, successful, talented people can pop their clogs and be erased forever from the surface of the earth, then we're really fucked. We already know that death is an unbeatable opponent. It just sucks to have it rubbed in our faces.
For the sake of our collective sanity, for the sake of the millions of men, women and children snuffed out by war, for the sake of the hundreds of millions of people throughout the world who have to shit outside on a rock, live underneath a strip of corrugated metal and die at the age of 19 from an eye infection, please stop saying that 2016 is murdering celebrities. If anything, it's trying to murder all of us. It's a minor miracle we all wake up in the morning.
Read this article from The Telegraph, which is rather good, but please do not ever read anything from The Telegraph ever again: http://www.telegraph.co.uk/men/thinking-man/why-are-so-many-celebrities-dying-in-2016/